The elementary school that my children attend hold a fundraising gala every year where they auction off generous donated items as well as class art projects created by the students. I helped coordinate my daughter's 2nd grade class art project. Inspired by their time tending to the school gardens with Mr. Jay, In the Garden is a collage of the students' "botanical" drawings. Scroll down below to learn more about the process and techniques.
Room 212 (22 students)
Room 209 (22 students)
step one…
Students were asked to imagine a time before cameras, to become explorers, discovering plants and flowers for the first time. Through observation they recorded details with simple pencil drawings on tissue paper that would later be collaged into the art piece. The tissue paper was taped down on regular paper for durability.
Here are all 44 students' drawings. Such a variety of styles and mark making!
step two…
I painted an undercoat of "champagne gold" acrylic to the surface. Than I trimmed and laid out the drawings and collaged them down using an acrylic matte medium thinned with water.
step three…
Once the collage was dried (overnight) the students added color with pastel and water color pencils. I challenged them to limit their color choices to just two colors.

They also added collaged paper mosaics beneath each of their drawings to serve as a visual base.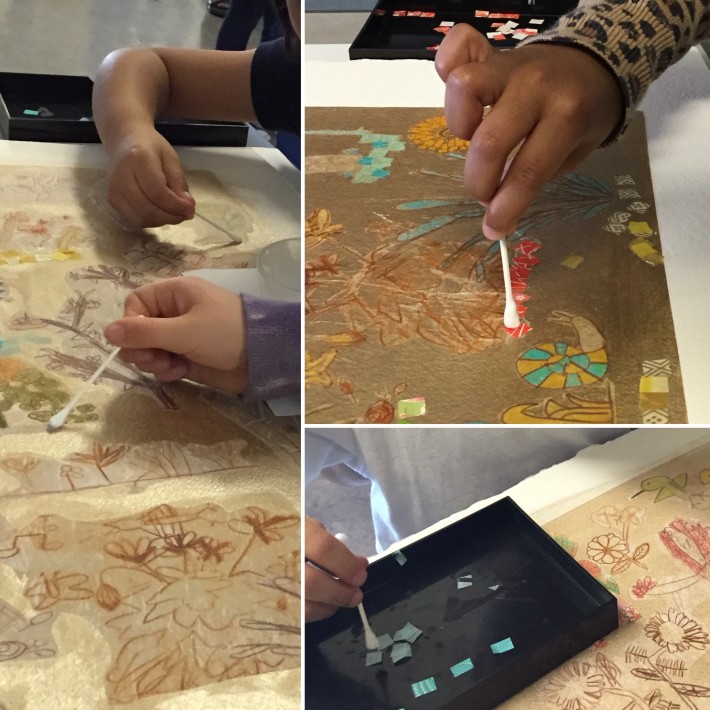 step four…
Using a masking fluid (looks like white liquid glue here) I covered each of their drawings, leaving the gold background uncovered.
Here the masking fluid has dried and turned into a rubbery water resistant layer.
step five…
I covered the entire artwork with another layer of the same "champagne gold" acrylic paint. The rubbery layer of masking fluid protects the under drawings and will be peeled away.
step six…
After peeling away all of the rubbery layer, the final artwork is revealed!