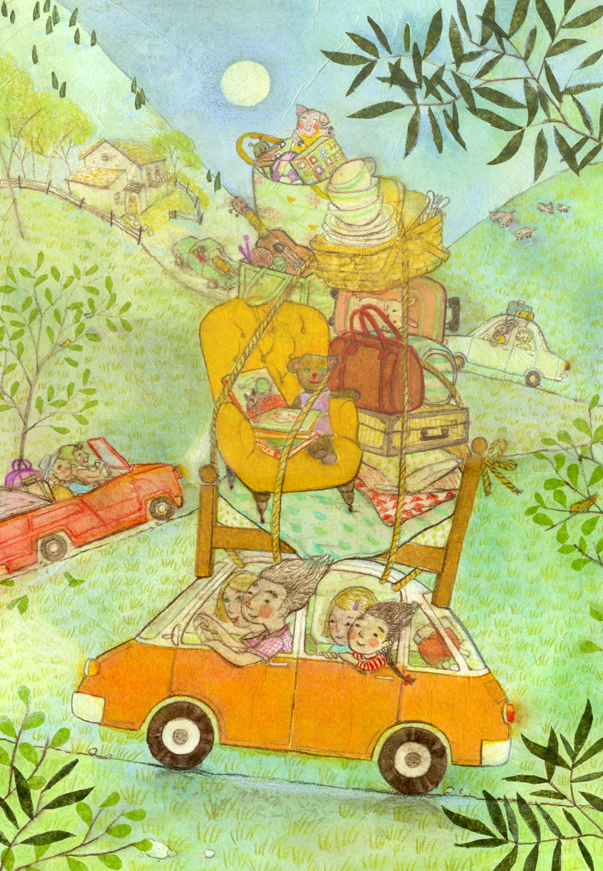 Storia di Benedetta
Inspired by the story "Le Vacanze Della Famiglia Pepinotti" written by Benedetta (6 years old)
Picture by Felicia Hoshino
Featured in the book Nella Foresta Veramente Scura for Associazione per i Bambini Chirurgici del Burlo Onus
about the project…
I was contacted by Giusy Battain, the director at Associazione per i Bambini Chirurgici del Burlo Onlus (the Association for Children Undergoing Surgery at the Burlo, or A.B.C., www.abcburlo.it). Based in Venice Italy, this non-profit organization helps families of children who were born with malformations to face their condition with greater peace of mind and awareness.
To celebrate the Association's 10-year anniversary, 10 children were asked to tell their surgery story through their own personal interpretation of events. With the help of a child psychotherapist and an illustrator, the children who participated had the possibility to create a story about the surgical conditions they lived through, a crucial opportunity to explore the complex moments of their life from a different point of view.
Under the art direction of Matteo de Mayda, myself and 9 other artists were asked to create an illustration inspired by one of these stories, which were all collected into the book, Nella Foresta Veramente Scura (In the Very Dark Forest). Proceeds from the sale of the book will be given to the Association projects, namely buying and refurbishing an apartment near the hospital that will be offered to parents of children who are undergoing long surgical pathways.
Here is an excerpt from Benedetta's story that inspired my illustration…
"Each year, when they had to leave, the Pepinotti family wore on vacation half of the house, in fact this time they had loaded on the car the bed, dishes and even blankets. The last space remained on the roof was filled with the latest toys of the girls. After much preparation and so much traveling, they finally arrived at their destination."