Juna's Jar – A Sense of Place
During the early sketch phase of creating Juna's Jar, I presented a sketch depicting Minho walking with Juna to Mr. Lee's Pet Shop. It was a very straight-forward composition. In the feedback from the publisher I was reminded that it was important to the author, Jane Bahk that the story take place in Los Angeles' Koreatown as that was where her husband had grown up.
So I changed to a vantage point that would include more of the street in the background with details such as the Koreatown street sign and gateway landmark as well as typical Los Angeles palm trees.
Here's the final illustration.
Similarly towards the end of the story in the scene of Juna and the cricket flying through the night sky, my initial sketch had Juna and her companion filling up the spread with only hints of the landscape.
So I shrunk down Juna on the page and pulled back allowing a more open bird's eye view of a bustling "Los Angeles" city night life.
Here's the final illustration.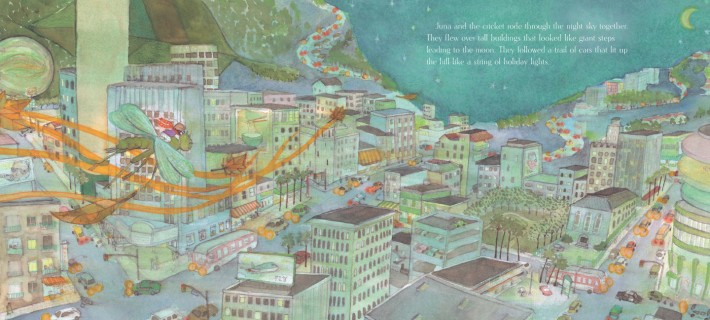 The biggest compliment was from Jane's husband who said I really captured his hometown!