Toward the end of the year I had the special opportunity to join 3 other illustrators on a calendar project! Chiaki Darski, Sansu and Ye won Lee are all highly talented artists… it was truly a wonderful experience and I hope to collaborate on more projects. Limited prints of the calendar are available for purchase $12 (shipping not included). Size is 5.5″ x 8.5″ Please contact me or purchase online from Chiaki Darski's etsy shop Chiaki's Orchard.
Each of us contributed 3 illustrations for various months. Here's a peek of one that I created, inspired by the Japanese Children's Day Festival, Kodomo no Hi. Celebrated in the month of May, children are treated to various Japanese sweets such as kashiwa mochi (sweet rice wrapped in a fresh kashiwa oak leaf). I was excited to find a way to combine both child portraits and food, two of my favorite subjects!
Calendar front cover. As you can see we have very different styles.
Calendar month of May.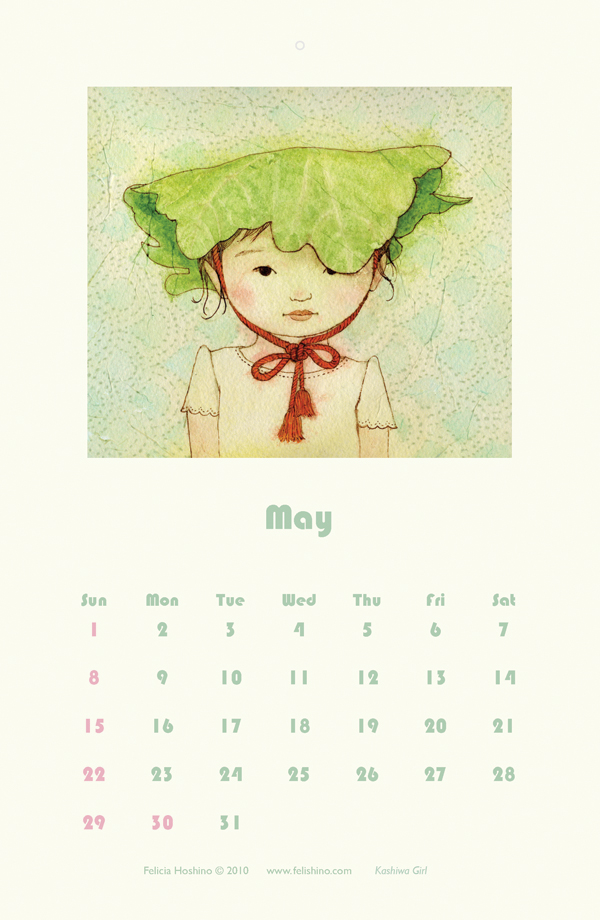 Calendar back cover.
"We are four bay area artists who love to chat over a cup of tea about creating illustrations for children of all ages. Inspired by the seasons, characters and food we've put together a special 2011 calendar representing just a taste of our individual styles. Please visit our websites to learn more. Enjoy!"