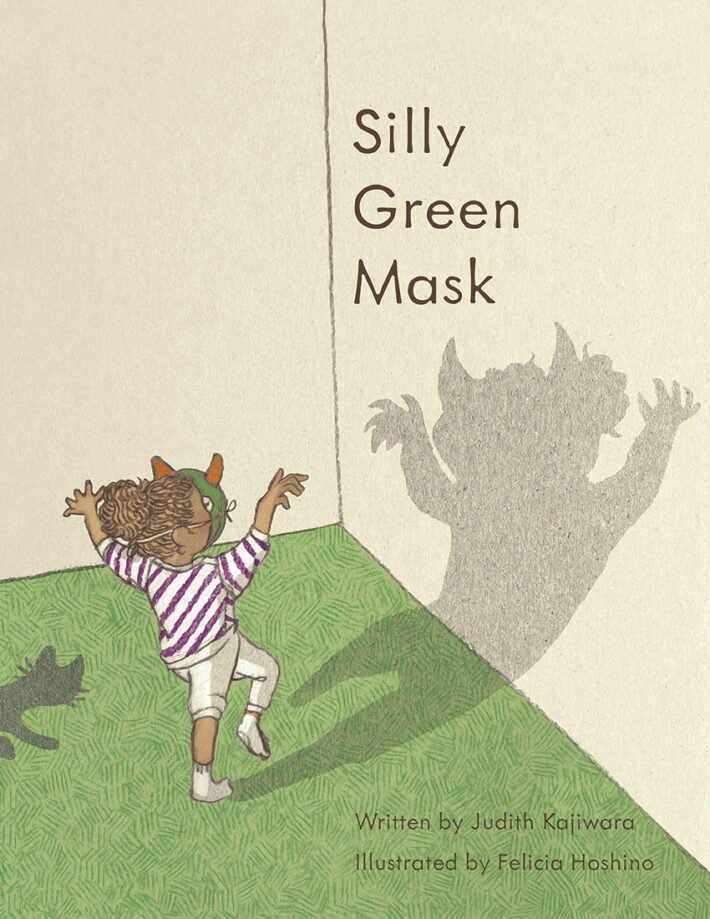 Written by Judith Kajiwara
Illustrated by Felicia Hoshino
Published by Lowkey Publishing (Nov 2022)
email: [email protected]
Learn more about illustrating Silly Green Mask.
where to buy
Special events: J-Sei Artisan Faire
Local Bookstores: Green Apple Books
Online Stores: Barnes & Noble, Amazon
$24.99
38 Pages
8.5″ x 11″
Hardcover ISBN: 9781667879260
the story
Silly Green Mask is about a very imaginative 3-year-old girl and her younger sister. At pre-school, the girl draws a silly face on green construction paper. Her teacher cuts it out, fashions it into a mask with eye holes, and attaches a string. The mask becomes a source of fun and theater for the girl, instantly turning her into an animated, make-believe character. One day, while wearing the mask, the girl becomes so wild that her little sister starts to cry. In an act of compassion, she makes a surprising decision.
For ages: 3 and up
the inspiration
Silly Green Mask had been sitting in a file cabinet for 40 years. It was recently found when its author, now a grandma, decided to recycle decades of papers from her files. Folded away were the yellow, tattered pages of a true story she'd written when she was a young single mother. She had once dreamed of making it into a children's storybook. But life got in the way and the dream was forgotten. Upon finding the story, a little bird tweeted, "It's never too late to make your forgotten dream come true." Having no clue how to start, she began visualizing her dream until it came to be.
Silly Green Mask is about love, family, innocence, imagination, and the importance of choice.
about nihonmachi little friends
During the Asian American Movement in the 70s, San Francisco's Japantown became a hub for the inception of many noteworthy community services. One of these services was Nihonmachi Little Friends (NLF). It was founded in 1975 by a group of young parents and community activists who wanted to provide culturally-sensitive childcare for their children. Decades later, NLF continues to offer Japanese bilingual and multicultural childcare for over 200 preschool and elementary school-age children annually. Families of diverse economic, ethnic and cultural backgrounds enjoy the camaraderie of the NLF community. A strong partnership between staff, children and families has made parent participation a vibrant part of NLF's endurance over time. www.nlfchildcare.org
the author
JUDITH KAJIWARA Since growing up on a farm in Livingston, California, Judith has been on a life-long spiritual quest to find truth, freedom and joy. Livingston is home to the Yamato Colony where many Issei farmers (first generation Japanese) settled in the late 1800s. As a Sansei (third generation Japanese American), church, community and culture established the foundation for her life. After high school, she attended UC Berkeley where she worked as a grassroots community organizer while earning her degree in psychology.
In addition to writing, Judith continues to follow her passion for dance and healing. She is a seasoned Japanese Butoh solo performing artist, choreographer, dance teacher and Reiki energy healer. Through the healing and expressive arts, her work aspires to empower, unite, and raise the consciousness of others. Judith works and lives with her family in Oakland, California.