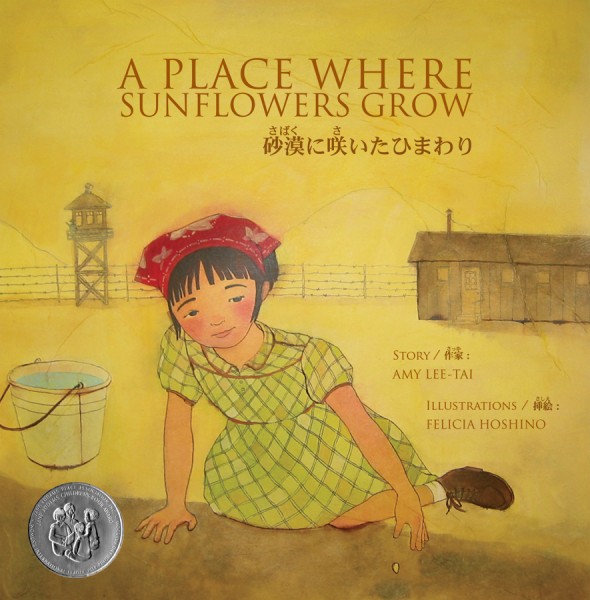 Written by Amy Lee-Tai
Illustrated by Felicia Hoshino
Mari and her family are interned in the Utah desert during World War II. Mari enrolls in an art class and plants sunflower seeds, but it seems impossible that anything beautiful could survive behind the barbed wire.
Bilingual in English and Japanese
32 Pages • Ages 6 and up
9 ¾" x 10 ¾"
ISBN: 978-0-89239-215-5
Publisher: Children's Book Press (now an imprint of Lee & Low Books)
awards…
Jane Addams Peace Award
The Society of Illustrators "The Original Art"
where to buy…
Availble through publisher Children's Book Press (now an imprint of Lee & Low Books)
Available through Alibris
Available through Amazon
At your local bookstore! Use ISBN: 9780892392155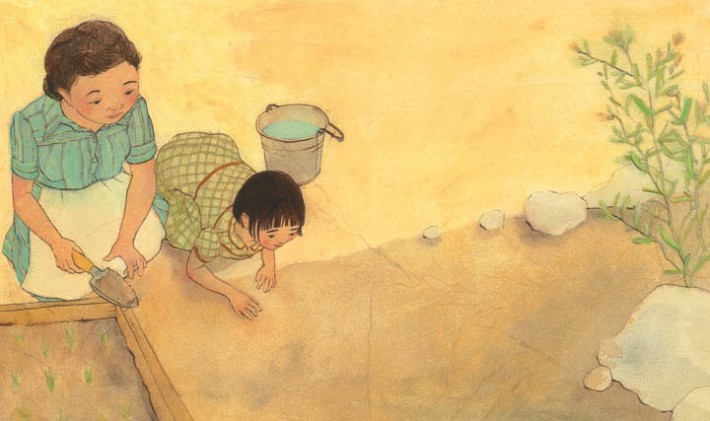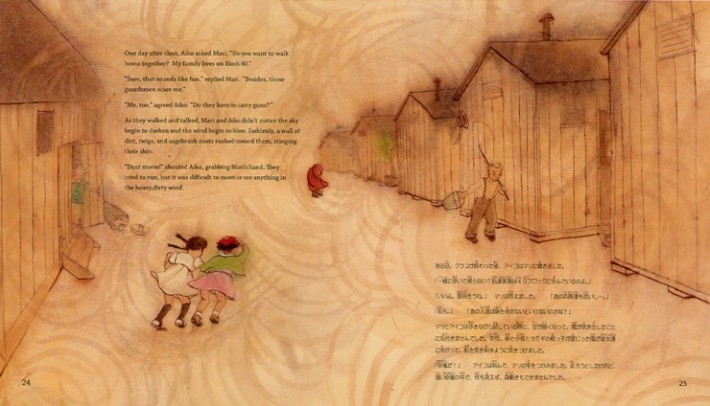 the story…
Mari wonders if anything can bloom at Topaz, where her family is interned along with thousands of other Japanese Americans during World War II. The summer sun is blazingly hot, and Mari's art class has begun. But it's hard to think of anything to draw in a place where nothing beautiful grows. Somehow, glimmers of hope begin to surface under the harsh sun—in the eyes of a kindly art teacher, in the tender words of Mari's parents, and in the smile of a new friend. Inspired by her family's experiences, author Amy Lee-Tai has crafted a story rooted in one of America's most shameful historical episodes—the internment of 120,000 Japanese Americans during World War II. The art schools which offered internees moments of solace and self-expression are a little known part of this history. Amy Lee-Tai's gentle prose and Felicia Hoshino's stunning mixed media images are a testimony to hope and how it can survive alongside even the harshest injustice.

the author…
Amy Lee-Tai was born in Queens, New York and is of Japanese and Chinese ancestry. She first learned of the internment from her mother and through her grandmother, Hisako Hibi's paintings. After earning her Master's in Education from Harvard, she worked in schools as a Reading Specialist. Amy now lives in Virginia with her husband and children. This is her first book.
the inspiration…
Peaceful Painter: Memoirs of an Issei Woman Artist Hisako Hibi;
 Introduction by Kristine Kim; Recollections by Ibuki Hibi Lee Born in Japan, Hisako Hibi came to America with her parents as a teenager. When she and her husband were relocated in 1942 to the Topaz internment camp in Utah they became teachers at the art school founded by Chiura Obata. In 1945 they moved to New York, where she found work as an apprentice seamstress. Hisako Hibi continued painting for the next forty years and, after she returned to San Francisco in 1954, she exhibited her work in numerous shows including several one-person events. Her art, and the informal journals and notes that she kept during those years, are the basis for this book. Hibi's work while interned largely reflected her life as a young woman, wife, and mother, and her later work reflects the same keen sense of clarity about different subjects. Taken together, her paintings offer an insight into the daily life of a woman who would not abandon her art or betray her spirit. Published in conjunction with the Japanese American National Museum Hisako Shimizu Hibi (1907-1991) was born in a farming village near Kyoto, Japan, and moved to California at age fourteen. She studied western-style oil painting at the California School of Fine Arts and participated in annual exhibitions at the San Francisco Art Association. Her work was exhibited throughout her career, and by the end of her life she was well entrenched in the San Francisco Bay Area arts community.
the reviews…
From School Library Journal
Grade 1-4 – Lee-Tai based this story on the experiences of her grandparents and her mother, who were interned in Topaz, Utah, during World War II. With quiet understatement, the text focuses on the confusion and sadness young Mari feels after her familys abrupt relocation to the camp. In the harsh desert landscape, she thinks wistfully of her home, where she played with her brother in a yard filled with flowers. Her parents are worried about her silence and listlessness, but an art class offers her a means of expressing her feelings. She makes a friend as well, and when her desert sunflowers put up seedlings, she feels a new sense of hope. The story is told in both English and Japanese, and the earth-toned illustrations, created using watercolors, ink, tissue paper, and acrylic paint, nicely detail the simple plot. Hoshino modeled some of her compositions on those of Hisako Hibi, the authors grandmother and a prominent Japanese-American painter. Other picture books dealing with this topic include Eve Buntings So Far from the Sea (Clarion, 1998), Yoshiko Uchidas The Bracelet (Philomel, 1993), and Rick Noguchi and Deneen Jenkss Flowers from Mariko (Lee & Low, 2001). Lee-Tais tale, with its emphasis on the internees dignity and feelings, offers the gentlest introduction to this tragic episode.–Marilyn Taniguchi, Beverly Hills Public Library, CA
Copyright © Reed Business Information, a division of Reed Elsevier Inc. All rights reserved.
From Booklist
Gr. 1-3. Inspired by the experiences of the author's Japanese American grandparents at Utah's Topaz Relocation Center during World War II, this picture book, presented in English alongside a Japanese translation, celebrates the "sense of purpose and peace" that the act of creation can bring. Everything seems grim about young Mari's life in the desert camp, where "the mountains, the vast sky, and the blazing sun made [her] feel as small as a sunflower seed." However, with gentle encouragement from her parents and art teacher, Mari crayons colorful pictures that lift her spirits, paralleling the sprouting of sunflower seeds in her mother's parched garden. The message feels a bit overt, and the slightly wandering story line may not hold every reader. Still, Hoshino's delicate mixed-media illustrations offer a wide-angle view of the daily lives of internees, and her buff-colored backdrops palpably convey the dusty, arid setting. Although a preface and endnote offer historical background, it's so brief that the book will probably work best as a supplement to more straightforward nonfiction about the time. Jennifer Mattson
Copyright © American Library Association. All rights reserved