The making of Sora and the Cloud
Just wanted to share some sketch phases of Sora and the Cloud with you. It's been 2 long years since I first sat down with the publisher Oliver Chin at Immedium… how the book has transformed since those first sketches! I'll be presenting a short slideshow presentation about the process at the Book Release Party on December 10, 2011 at the JCCCNC! Please join us!
************************
Cover:
Before I seriously thought about the cover, I used a quick drawing of the Cloud character as a place filler. To me this simple drawing really captures the Cloud's personality. Eventually, I decided to use an image of Sora "flying" on the Cloud (taken from the kite festival scene) which conveys the feeling that I hope readers will experience!
************************
Tree climbing scene:
Originally, the book was going to be a tall vertical format to emphasize height, but it was later decided that a landscape format would also work allowing me to spread out and create a wide scenic view.
************************
Amusment park scene:
At first, I was planning to show more sky in this scene and less of the amusement park. Sora would be so high that you would only see the tips of the tallest rides. But then I decided to fill the page with color and movement which I think makes this scene very special.
SIDE NOTE: For those of you who have been felishino fans from the beginning, you'll recognize the people mover or "sky glider" ride from my first logo and website. It was tough to let that flash website go!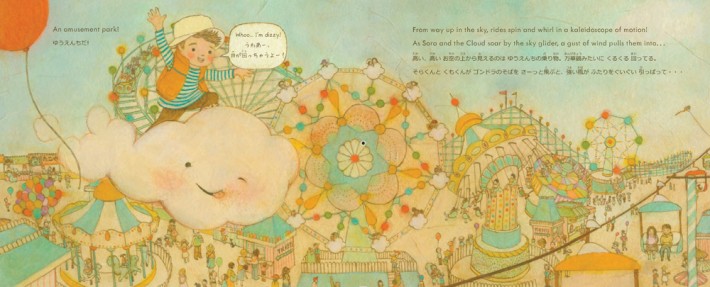 ************************
Join me at the Book Release Party to learn more!