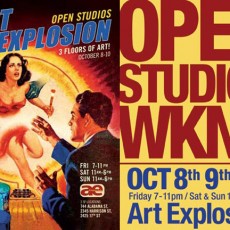 Opening Reception: Fri Oct 8th 7pm – 11pm
Open Studios: Sat & Sun 11am – 6pm
Alabama Street Studios – 744 Alabama Street @19th Street, San Francisco CA.
My studio is #219 on the 2nd floor.
Please stop by and say hello! I'll also have children's books, cards, prints and original artwork for sale. Plus a very special treat prepared by our very own Mr. Yoshi! Spread the word! Look forward to seeing you at this FREE event!